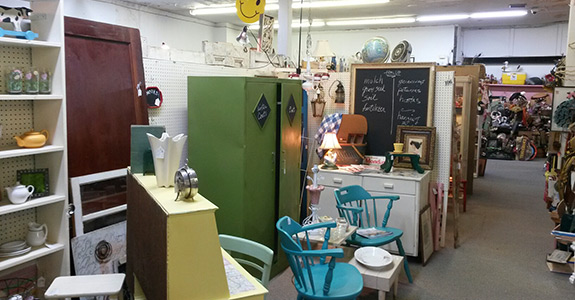 Our huge store carries everything from vintage Tiffany jewelry to durable antique furniture in St. Louis. We offer over 13,000 square feet for your treasure hunting delight, and over 128 antique dealer booths. We are open seven days a week for a full day's worth of wandering every day. Our extensive items and services include:
| | |
| --- | --- |
| | |
| Jewelry: Most of our antiques dealers carry extensive collections of beautiful, antique jewelry in St. Louis. You'll find something from every era, whether you're looking for a vintage engagement ring to present to your loved one, or a fun or elegant piece just pops out at you. | Furniture and home accessories: We are one of the largest carriers of furniture in the St. Louis area, and we can say with pride that each piece is well made and comes with its own bit of intriguing history. We have all types of furniture and accessories, from small midcentury end tables and lamps to grand, Victorian style carved beds and armoires. |
| | |
| Glassware: You'll find everything from priceless antique crystal wine glass sets to fully functional but still beautiful vintage bowls, perfume bottles, containers and more from every period. | Memorabilia: Many of our dealers carry fun throwbacks to the good old days, like Coca-Cola signs and Mickey Mouse figurines, some of which are used enough to tell an instant story, and some of which are in valuable condition. |
| | |
| Military antiques: Especially eclectic is our array of military antiques, which can range from worn leather boots to silver Jeep cigarette trays and nautical sighting compasses. | Antique toys: Whether you're looking for an interesting piece to showcase on the mantel or a sturdy toy for your child, our antique toys are wildly diverse and guaranteed to please. |
Amenities and services: We're proud to offer on-site bathrooms, handicap accessibility and professional delivery to your home to ensure your antiques arrive in pristine condition.
Whether you're an avid antiques enthusiast or just wandering in, you're sure to find something you like at Treasure Aisle Antique Mall.